Two BRHS Students Will Have Their Winning Artwork Displayed In Washington, D.C.
Bridgewater-Raritan High School students Angela Xu and Sharanya Ram won honors in the New Jersey's 7th District's 2023 Congressional Art Competition.
As winners, their artwork will be hung in Washington, D.C.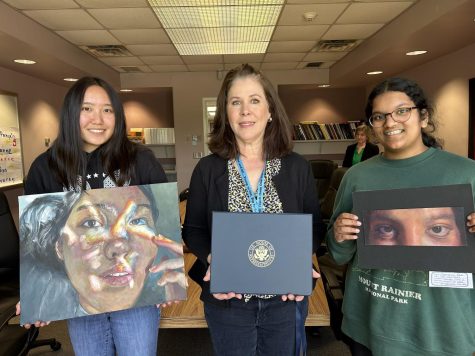 Sharanya Ram, a BRHS junior, won first place in New Jersey's 7th District competition for her piece entitled "In Your Eyes."
The next stop for Sharanya's piece is the Cannon House Office Building at the United States Capitol in Washington, D.C, where it will be hung for a year. The Cannon House Office Building occupies a site located south of the Capitol.
Sharanya's acrylic painting joins an estimated 400 other pieces of artwork submitted by student artists from around the country.
Angela Xu, a BRHS senior, won second place with her acrylic painting called "Prism." Also placing second in the 7th District Competition is Maggie Liu of New Providence High School.
Angela's painting will be hung in Congressman Kean's Washington, D.C. office building for six months, and then in his District 7 Bernardsville office for another six months. 
The artwork submissions for the 7th District Competition were judged by Rachel Heberling, the Executive Director of Frontline Art in Branchburg, along with Alicia Ferrel, who has been an art teacher for over 15 years and who in 2017, was recognized as the Art Educator of New Jersey Elementary Art Division award winner.
Renee Trabert, who is the Special Projects Coordinator for the 7th District and who previously served as Congressman Kean's Chief of Staff from 2002-2021, visited BRHS on Thursday, May 11, in order to meet the two winners and to take the paintings so they can be hung on display this month.
Ms. Trabert mentioned that a ceremony will be held on June 20 in Washington, D.C. to unveil Sharanya's painting and the other winning artwork from students around the country.
During Ms. During Trabert's visit, Congressman Kean took the time out to call and congratulate Sharanya and Angela.
Sharanya thanked him for recognizing young artists.
"It's really important to hold a competition for artists because it's not every day we get recognized by the literal government."
She went on to say, "In the darkest times people turn to art and I hope it's relevant in the future."
Kean responded. 
"It has to be."
For Congressman Kean, taste for the fine arts runs in the family.
His father, Thomas Kean, who served as the 48th Governor of New Jersey from 1982 to 1990, originally created the New Jersey Council of the Arts.
Today, Congressman Kean keeps the family legacy on by awarding young artists the opportunity to showcase their work in his offices and in the Capitol. 
Elizabeth Stutzman, Sharanya and Angela's art teacher, is also extremely proud of her student's accomplishments. 
"Both students put extraordinary effort into painting their self-portraits and have an exceptional eye for seeing detail whether it be Sharanya's photorealistic style seen in the way she painted her eyelashes with subtlety, or Angela's precise depiction of prismatic light reflected onto her face."
Ms. Stutzman went on to reveal the confidence her students possess.
"These students do not shy away from visual challenges; they conquer them. I could not be more proud of their accomplishments."