March 14, 2023 Referendum Vote is Just One Week Away
Next Tuesday, March 14, residents of Bridgewater and Raritan are asked to vote on a referendum that requests funding for district-wide renovations of its facilities.
This referendum includes a two-part question. The first question asks residents to approve $120 million to be used to upgrade all 11 schools in the district. This part does not have a tax impact on the communities. 
Some of these renovations include installing air-conditioning in every classroom, upgrading windows and bathrooms that date back to the 1960s, and creating a secure vestibule in every school.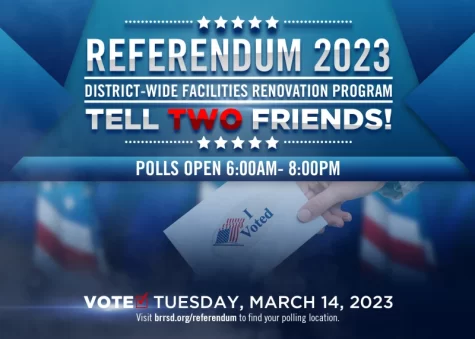 The second question proposes an addition be added to the Middle School, which would result in grade 6 moving up to the school. The Middle School would then house grades 6-8. This would allow for a full-day kindergarten program to be implemented at the primary schools. This project has a projected cost of $34 million and will have a tax impact on the community. Residents' taxes will increase for 25 years.
To view the estimated tax increase of your home, you can visit the Solutions Architecture tax calculator.
During the Referendum 2023 presentation at the Community Forum on Feb. 21 at the high school auditorium, Superintendent Beers described that these upgrades "are going to have a profound impact in a positive way on our community."
BRRSD is encouraging all residents to vote on March 14. Polls open at 6:00 a.m. and close at 8 p.m. Polling locations can be found here.