Students vs. Faculty Basketball Game to be held on June 2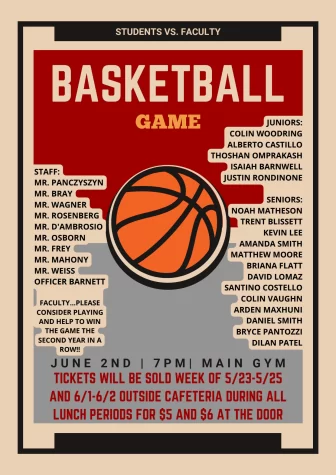 The annual Students vs. Faculty Basketball Game will be held on Friday, June 2, in the high school's main gym. 
The game will start at 7 p.m.
This game is a prime fundraiser for the Bridgewater-Raritan High School Student Council, which is hoping to use the funds from the game to host a homecoming dance next fall, says Ms. Sarah Cleary, who is the Co-Advisor of the Student Council with Michelle Mammone. 
Ms. Cleary explains, "We are also hoping to use [the funds from the game] to fund a homecoming dance next year. This is something that hasn't happened in a very long time and the students want to bring it back."
Funds from the Students vs. Faculty Game also support the Student Council and their projects throughout the year, such as homecoming royalty and other related expenses. 
Last year, this basketball game was the Student Councils' biggest fundraiser, says Ms. Cleary. 
She says, "We are hoping it is successful this year also."