BRHS Students Deliver a Terrific Performance of the Musical "Anything Goes"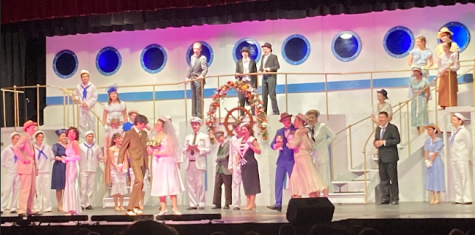 A wonderful performance was presented to the community by the Bridgewater-Raritan High School Theater Arts Department when the musical Anything Goes was played  from April 27 to 29 at the high school's auditorium.
 Anything Goes is a romantic comedy aboard a cruise liner, originally composed by Cole Porter and performed in 1934.
The musical follows Billy Crocker (played by BRHS junior Cole Januzzi) and his quest to win his gorgeous, but engaged, love Hope Harcourt (played by BRHS junior Aliana Gust).
Chaos ensues as Billy is trapped on the cruiseliner, with him having to avoid his boss Eli Whitney, help out wanted-gangster Moonface Martin (played by BRHS sophomore Grant Beck), and most importantly convince Hope to leave her fiance, Lord Evelyn Oakleigh.
Though not easy, with everything from religious revivals to nights in the slammer, everyone was able to have their happy ending; Billy getting his beloved Hope, Lord Oakleigh being able to express his "passion" with nightclub singer Reno Sweeny (played by BRHS senior Isabella Lobosco), and even Mr. Whitney strikes rich on the stock market, securing both his finances and Billy's job.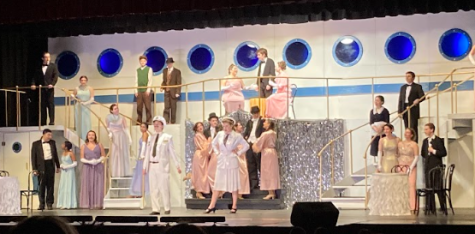 With plot twists in the form of love squares, incredible music, amazing costumes, and a thoroughly entertained audience, the night was made to be a success.
The talented cast and crew were able to finish off their last performance with a well-deserved standing ovation, and heartwarming "thank yous" to the members and directors that were able to help produce three amazing nights of performances. 
The musical was a phenomenal event that showed off the talent and community present at BRHS, and the long wait ensues to see what else this gifted department can bring with the fall play, which is yet to be announced.