BRHS Hosts Annual Winter Guard Show
The Bridgewater-Raritan High School (BRHS) Winter Guard served as the host to a state-wide competition on Saturday, March 11, in the high school's main gym.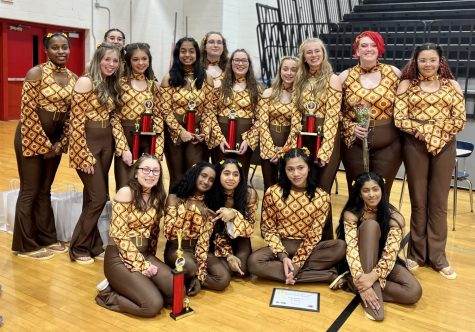 A total of 28 teams from across New Jersey, as well as New York, participated in the biggest pool ever assembled at the Bridgewater-Raritan High School Winter Guard Show.
The competition started at 3 p.m. and lasted until 9 p.m., but BRHS members were there as early as 9 a.m. to begin preparations. Along with being the host for the competition and presenting awards, the BRHS Winter Guard performed an unscored exhibition performance at 7 p.m. The piece was titled "See the Sun."
Other teams' themes for their performances included a rodeo theme, a 90s work-out theme, and a theme about time.
Bridgewater-Raritan has been the home site for this state-wide competition for over 10 years.
Bridgewater-Raritan High School Band Director Nick Mossa explained that being the host "frames our team really well, and our performers."
He further went on to explain that the performers "feed off of the energy" BRHS brings to the competition. Each team brought their own unique and competitive performance with them, but all of the others cheered them on too.
Once all the teams performed, BRHS students presented the awards and trophies to the winners.
For the Scholastic Double A, Bergen County's Northern Valley Regional High School placed first with
For the Scholastic A Division, New York's Roslyn High School won the title by recording a total of 82.04. Edison High School was the runner-up with 76.34 points, while Hillsborough High School finished third with 75.75, Monroe Township High School placed fourth with 75.68 and Egg Harbor High School from Atlantic County finished fifth with 70.88.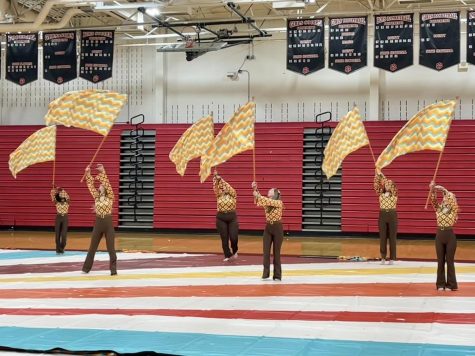 To end off the award show, Somerville High School was presented first place with a golden trophy for the Scholastic Open Division with a score of 79.9.
Although Bridgewater-Raritan High's performance was not scored, given that it was the host school, many of them spoke on their performance, including Band Director Mossa.
He explained, "It was a great show. I'm very proud of our team. They got a very well reception and it was well deserved."
Other team members reflected on their experience being a part of Winter Guard. This will be the last season of Color Guard for several members of the BRHS, including seniors Kurt Joshua Echaluse, Amanda Sullivan, Alyssa Saums, and Anya Dolson.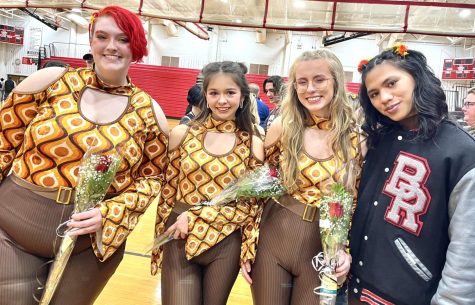 The Bridgewater-Raritan High seniors were presented with flowers at the close of the show on Saturday.
Kurt Joshua Echaluse, who has been in Color Guard since his freshman year, talked about his experience on the team. What he enjoys most is how the members "bond as a team, not just as individuals. We all grow together, compete together, and have fun together."
Amanda Sullivan, another senior, has been in the Guard since her junior year. For her, sharing the experience with her friends is also the most important part. She said, "even when we're all tired or stressed, we get together and spin and let everything out. I'm going to miss the fellowship and the bond everyone on the team has with each other."
Alyssa Saums is a Color Guard veteran who has performed since her freshman year. While reflecting on her four years performing, she got emotional.
She said that "they taught me so much," referring to her teammates, especially those that were older than her. Being a senior now, Saums has been able to teach and be a role model for the younger Color Guard performers, including sophomore Lily Singer. The two have created a bond that makes it difficult to leave the team following the end of the school year. Saums described the team as "one big family."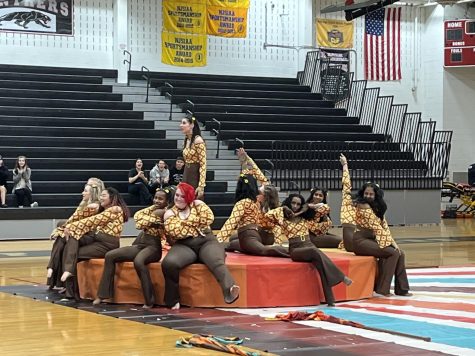 Anya Dolson explained the behind-the-scenes work that goes into performances like this one. She says that the first practice was held in November and the Winter Guard started putting the show together in December.
The BRHS Winter Guard practices on Tuesdays, Wednesdays, and Saturdays. On Tuesdays and Wednesdays, Dolson explained the team practices for about three hours. On Saturday, however, she notes that the hours they practice are always a "mystery;" it depends on how much practice the team needs before a competition.
Competitions are held most Saturdays all over New Jersey. Championships for Winter Guard are to be held in April.