BRHS Hosts 14th Annual Broadway Night
"I think that's the best part of choir. It's a great environment to develop leadership skills and do something you love with others who love the same thing."
The Bridgewater-Raritan High School choir hosted its 14th annual Broadway Night on Wednesday, March 8th, and Thursday, March 9th. 
The night centered around the theme of "Villains", with each performance involving songs by, for, or about a villain, from hit musicals like Carrie, Mean Girls, and Chicago.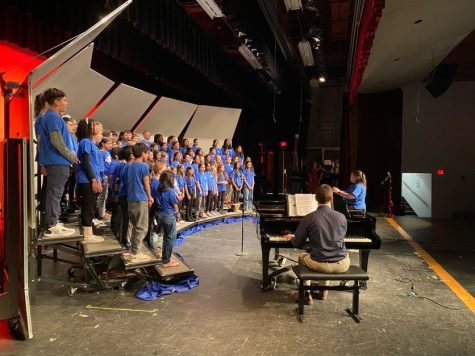 The event included several solo, duet, and group songs. A middle school ensemble, the Eisenhower and Hillside Intermediate choirs, and the high school's own choir also performed larger group numbers at the end. 
Featured performers from the high school included Cameron Knauf, Rebecca Puszkin, Mari Springsteel, Sanya Kalbag, Samantha Barnes, Grant Beck, Sidak Chahal, Timothy Gaffney, Indiana Lu, Matthew Pelc, Abigail Librojo, Fallon Billy, Sania Sawale, Sean Miller, Derek Boxer, Crystal Zhang, Avanti Patwardhan, Lila Dettelback, Prisha Gudimella, Sanjana Thayi, Grant Beck, and Bella Lobosco.                                                                
On Wednesday, a BRMS ensemble of Angel Abdussamad, Max Dvorkin, Maya Little, Sofia Mathew, Juliana Narciso, Devin Patel, Kashti Shah, and Raziel Zuniga performed "Chillin' Like a Villain" from Descendants 2. The Hillside Intermediate Singers sang "Songs of a Disney Villain", a compilation of classic Disney songs. The Eisenhower Intermediate Signers performed the same song on Thursday night. On both nights, the BRHS choir sang a medley of songs from the Sondheim musical Sweeney Todd.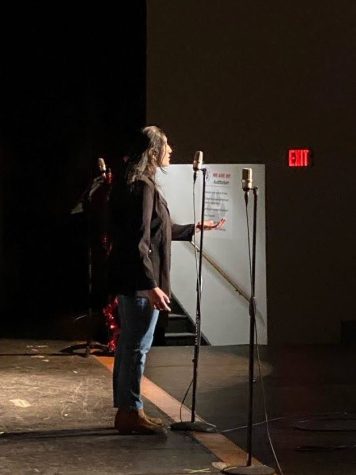 Dr. Wilson, the choir director, told The Prowler that Broadway Night "provides a chance for our curricular choirs to dig into musical theatre repertoire. It's the perfect performance opportunity for students passionate about musical theatre."
Lila Dettelback, Indiana Lu, and Grant Beck were the emcees for this year's Broadway Night. Lila also opened Thursday night's performance with "When It All Falls Down" from Chaplin. Indiana performed in the group number "Cell Block Tango" from Chicago, and Grant sang "Friendship" from Anything Goes with Bella Lobosco on Thursday.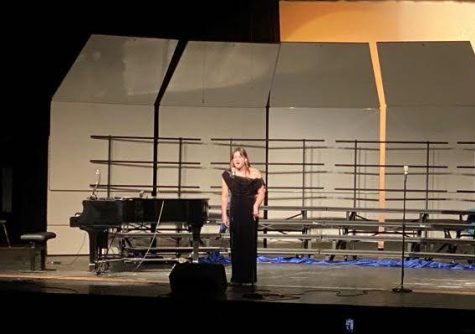 Indiana found that her favorite part of the event was working with the other emcees to make the night memorable for the audience. She appreciates that the high school includes choir students from middle and intermediate schools. For her, "it's important to reach out to the younger people of the community to make sure the legacy of choir in the school continues."
Lila said her favorite part of being an emcee was watching her friends perform from backstage. As a senior, it will be the last Broadway Night of her high school career. 
She told The Prowler, "I'll definitely miss being able to make friends with other people who aren't in my grade. I think that's the best part of choir. It's a great environment to develop leadership skills and do something you love with others who love the same thing."
The BRHS choir is now preparing for its next performance with the Festival of the Arts Chorus Concert on March 23rd at 7:00 pm in the Main Gym.