Governor's Educational Services Professional of the Year: Erin Lowman
As many of you know, our high school is comprised of thousands of talented individuals, and it may be hard to know them all.
Ms. Erin Lowman, for example, is our school psychologist for IEP students. She supports children in their graduation journey and helps countless people find academic help.
For this reason, she has been awarded the Governor's Educational Services Professional Award for Bridgewater-Raritan High School.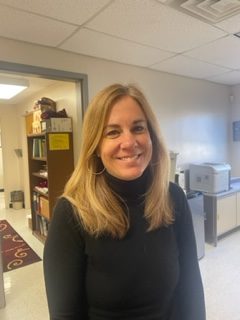 Twenty-two staff members in the Bridgewater-Raritan Regional School District—two from each school–were recognized as the recipients of the Governor's Educator of Year Award and Governor's Educational Services Award for 2022-2023 by the Bridgewater-Raritan Regional School District Board of Education on Tuesday, January 24.
Mr. James Olivola, a mathematics teacher of AP Probability and Statistics and Academic Geometry, was the recipient of the Governor's Education of the Year for BRHS.
The Prowler cited Mr. Olivola's award recently and now the student media platform would like to take this opportunity to congratulate Ms. Lowman and take an in-depth look at her journey here!
What motivated you to pursue this career as a psychologist?
"My mother actually worked on a child study team so I had an understanding of what a role like this was. I liked working with kids, and this was a great way to use my major in psychology. I also preferred working hours so that I could get a chance to be with my children after school."
What inspired you to come to BRHS?
"Honestly, I do live really close by, but I started out as a maternity leave replacement. So I have three children and was looking to get back into working while they were younger, so I started with Adamsville and then worked as a replacement in the high school. And then, a position opened up!"
Do you like to be involved in any other school activities?
"Doing unit lunch I am working at a structured study hall because I like to get involved with the kids. I am not particularly involved in any clubs currently because I might have emergency meetings. But, if one of my students wanted me to support them at cheerleading, or something, I would definitely try."
Is there anything you would recommend for those aspiring to work in a school?
"Research whatever field you are interested in and get a sense of what the day-to-day looks like… and make sure that it suits your personality style. For example, with my career, I can't always be a people pleaser, since I am working with parents, students, and teachers, so if that makes you uncomfortable then you can look into something else! And know that there are a lot of other jobs than being a teacher. So if you just want to work with kids or in a school, then you can do much more."
What are your hobbies?
"I like to ski, and maybe not 'like' it but I do try to exercise! I also like to read and travel, and I feel like my kids are a big part of all that. Yes, my kids are my hobby right now!"
If you had to describe your personality in one word what would it be?
"I think I try to be reflective, and learn and grow, in terms of my job. I try to see what worked and what didn't so that I can better serve my students."
How do you feel about receiving the award?
"I am very grateful. It was a very nice surprise, and it was humbling. There are so many deserving people, so it feels great, but there are truly so many amazing workers here."
And to end the interview, we give a thank you to Ms. Lowman for her time and hard work in ensuring that the BRHS students prosper, and would like to invite all students and faculty to attend a ceremony in May to commemorate her achievements!