Educator of the Year: Mr. Olivola
High school is one of the most critical times in many of our lives, as it prepares us for adulthood and the challenges to come. Without the help of our dedicated teachers, we would not be able to get through it. Every single faculty member deserves an award for helping us through this difficult time, and one of the most receiving is Mr. James Olivola, a mathematics teacher of AP Probability and Statistics and Academic Geometry, and the recipient of the Governor's Education of the Year Award. As we congratulate him for this hard-earned achievement, let's take a look into what led him here and his experiences at BRHS.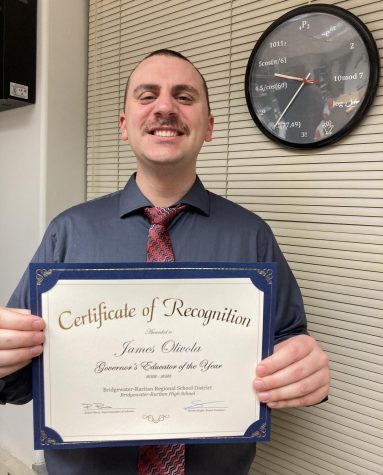 What motivated you to pursue a career as an educator?
"It was in my junior year when I took Honors Precalculus with my teacher, Mrs. Delia, at Rutherford High School. She motivated me to stay in the class because I was thinking about dropping out since I was so overwhelmed. She said, 'I believe you can do this if you can put in the effort'. At that moment I realized I wanted to become a high school math teacher."
What inspired you to work at BRHS?
"I grew up in New Jersey. So, I wanted to return the favor and give back to my home state. I had applied to a lot of great schools that were looking for math teachers, but when I came here during the interview, it was during the class change. I looked at the campus and saw students coming outside, walking around all over the place, and was blown away!"
What would you recommend for those aspiring to work in education?
"You have to show the people that you love what you do and care about your students outside of the classroom. When the kids see you involved, you are more likely to build relationships which translates into success in the classroom."
How do you like to be involved in other school activities?
"I cover a lot of our varsity sporting events for Bridgewater Raritan Panther Athletics, and the BReeze. So what I'll do is rotate around a lot of the sports. For winter, for example, I try to go to boys' basketball, swimming, and wrestling so I can share their achievements outside the classroom."
What are your hobbies and interests? What do you like to do in your free time?
"I absolutely love watching sports, which goes with watching all the high school athletics… and I actually got into it through marching band because we would play certain songs when a first down or a touchdown happened in football. In relation to that, I am a big fan of instrumental music. Moving back to New Jersey, I am also a lot closer to my family. I live now in Bridgewater."
If you had to choose one word to describe yourself what would it be?
"Self-disciplined. I heard somewhere in a professional development session in Ohio [where he used to teach] that to paraphrase said, 'You shouldn't need a boss. If you need a boss, nowadays you might not be employable'… you need to be self-regulated and independent because, at the end of the day, you are living on your own."
How do you feel about receiving the award?
"It is a huge honor… and to be awarded this is more of a testament towards the students, parents, and coworkers who have taught me so much. I am so appreciative of all the hard work they do every day that makes my job fun. With the last few years of the COVID pandemic, everyone who has stuck around is Educator of the Year. It truly does take a village, and more importantly, a team, to raise a child — to raise our school to this fantastic community."
To conclude the interview, the BRHS Prowler gives a big thank you to Mr. Olivola for his time and dedication to the school and would like to invite all students and staff to attend a ceremony in May to commemorate all recipients.