BR Wrestling Defeated by Westfield in State Sectional Semis
A trip to the North Jersey, Section 2, Group 5 state sectional title match was denied when the
Bridgewater-Raritan High School wrestling team was eliminated by Westfield High School, 43-
22, on Monday evening, February 6, at Vaughn Stapleton Gymnasium in Bridgewater.
Bridgewater-Raritan, the No. 2 seed in the section's group, earned a berth in the semifinals against third-seeded Westfield, after the Panthers had defeated seventh-seeded Piscataway High School, 57-18, in the first round that was held earlier in the day on February 6.
Westfield beat sixth-seeded Columbia High School in the other opening-round match that was also wrestled in Bridgewater. Westfield, which improved to 17-4 with its two victories in Bridgewater, will now meet heavily favored Phillipsburg High School, the No. 1 seed, Wednesday night, February 8, in the sectional final in Phillipsburg. On Monday, February 6, Phillipsburg took down eighth-seeded Elizabeth and fourth-seeded Bayonne by scores of 74-3 and 72-6, respectively, en route to its sectional final showdown with Westfield.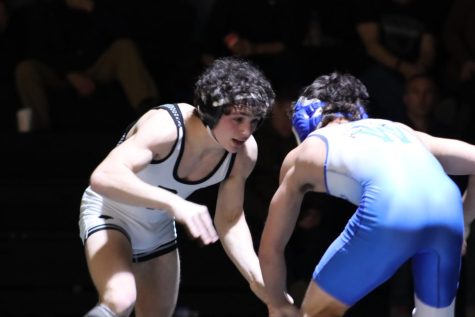 The state group championships are scheduled for Sunday, February 12, at Rutgers University. Bridgewater-Raritan had gained the early edge against Westfield in the semifinals. Two-time Somerset County champion Danny Smith won by a technical fall, 23-8 in 5:48, at 132
pounds, Matt DiEduardo scored the final four points to pull away for a 7-3 decision at 144 pounds and Dane Sorensen gained a takedown with 34 seconds remaining in the third period to seal a 9-1 major decision at 150 pounds. That early surge sent Bridgewater-Raritan ahead, 12-9.
But then it was all Westfield. The guest from Union County ripped off 34 straight points behind pins from Jack McDermott (157 pounds), Luke Vaccaro (165), Sergio Cabrera (215), and heavyweight Cary Prichett. That
run left Westfield with a 43-12 lead, which sealed the verdict.
Bridgewater-Raritan closed the evening with an 8-0 major decision by Lucas Pelc (113), who
picked up a takedown in the final period to seal that result, and Logan Levine (120) won by
forfeit at 120 pounds to produce the final score of 43-22.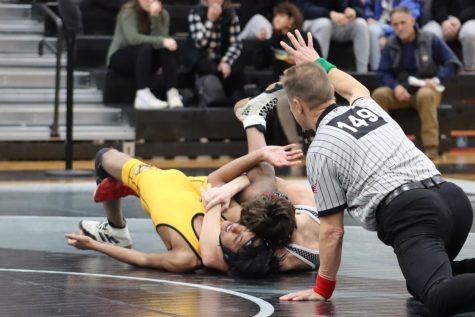 Against Piscataway, in the opening match of the day, the Panthers built a 51-0 lead when they won eight of their 14 bouts by fall.
Levine (120), Mike Marsigliano (126), Casey Spina (138), DiEduardo (144), Sorensen (150), Nick Heuner (165), Steven Shimko (175), and Lucas Loffredo (106) each pinned their opponents, while Smith (132) won by a 6-3 decision, Mauricio Chaves (157) held on late for a 10-7 win by decision, and Christian Gallegos (190) scored one takedown in each of the final minutes of the first and third periods en route to a 4-0 decision.
Bridgewater-Raritan, which fell to 15-5 with its loss to Westfield, will travel to Parsippany Hills
High School on Saturday, February 11, for a 9 a.m. quad match against Parsippany Hills,
Paramus High School and Wallkill Valley Regional High School.